SoftWash XT: a workhorse dressed up with revenue boosters.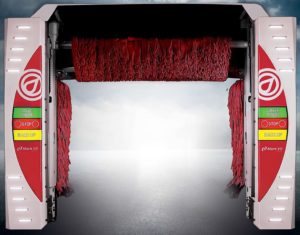 Our patented foam brush material is called SofTecs for a reason. Wash your car in another company's friction rollover, then wash in a SoftWash XT, and you'll feel and hear the difference. Other rollover brushes shake your car and make it difficult to talk over the noise they create. SofTecs brushes are softer and quieter, while still being strong and durable and providing great cleaning results.
Advantages
Patented SofTecs foam safely and gently cleans and polishes.
3-brush design proven at over 35,000 sites worldwide.
Lowest operating costs of any rollover system.
Perfect for retailers wanting maximum up-sell capabilities.
Options
Tri-color foam to enhance the customer experience.
WheelJet brushes or WheelStorm high pressure to thoroughly clean wheels.
FoamTecs® foam curtain with multi-color LED light show wows customers.
ShineTecs® polish system restores new car shine.